Keeping your dog's teeth clean is a very important part of dog grooming. Studies have recently shown that 80% of dogs will have signs of dental disease by the age of 3 years. To lower the risk of this happening you should begin a regular dental cleaning regiment by using dog teeth cleaning products.
Have you noticed that the pet industry has bombarded us with products that claim to clean your dog's teeth? This is due to the recent awareness of dental diseases in dogs and cats. The difficult part is knowing which ones work the best. In this article, I am going to show you some of the best dog teeth cleaning products available today. This will help you make an educated decision about which product will work best for your fur baby.
Reasons why you should care for your dog's teeth
Toothbrushes
Using a pet toothbrush to clean your dog's teeth daily is the best way to reduce the risk of dental disease.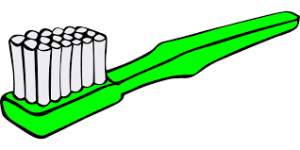 Tips: Begin by showing your dog the toothbrush, ashore him/her that it will not hurt, begin by brushing the front teeth then slowly move to the back teeth. Do this on a daily basis and your dog will eventually tolerate this process.
---
Pet Republique Cat & Dog Toothbrush
This toothbrush was designed to simplify the cleaning process.  Featuring dual brushes that will reach all the different areas of your pet's mouth. The handle is 8 1/2 inches long making it easy to reach the back teeth.
In addition, Pet Republique donates 15% of their profits to the American Animal Rescue Society to feed and shelter homeless pets.
Tips: Always read and follow the instructions on the package.
---
Cat & Dog Soft Finger Toothbrush by Moonsteps
Many have found that using a finger toothbrush is the easiest way to clean your dog's teeth. This is a personal preference and you will need to find what works best for you and your dog. 
This finger toothbrush is made of food-grade silicone and is 100% safe for your dog. Featuring soft brush bristles to safely clean your dog's teeth and gums.
Tips: To avoid the finger toothbrush from getting stuck on your finger wet your hands and the inside of the finger toothbrush before you begin.
---
Kinds of toothpaste
Pet toothpaste works the same way as our human toothpaste does but without the foaming agents. Because dogs can not spit these harmful if swallowed foaming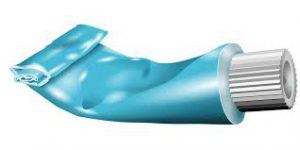 agents are not in pet toothpaste.
Tips: Get your dog used to the flavor before you attempt to brush his/her teeth. Place a small amount of toothpaste on your finger and encourage your dog to lick it. Slowly begin to rub your fingers on his/her gums.
---
Arm & Hammer Advanced Care Enzymatic Toothpaste for Dogs
Arm & Hammer is well known for its gentle yet effective cleaning products. They now have a line of pet dental products that work the same way. A&H toothpaste is made with baking soda and enzymes to clean away plaque, deodorize, whiten and fight tartar on your dog's teeth and gums.
---
Petrodex Enzymatic Toothpaste for Dogs
Sentry AKA Sergeant's has been making pet health products since 1868 and have built a very good reputation. Petrodex Enzymatic toothpaste has been formulated to remove plaque, fight tater and freshen bad breath for your pooch.
---
Dental Treats
Giving your dog dental treats is an excellent way to continue the teeth cleaning process. Dental treats scrape plaque and tartar off your dog's teeth as he/she chews on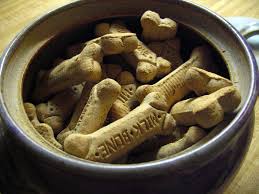 them. Dental treats do not replace regular teeth brushings but should be added to your dental care regiment.
---
Greenies Dental Dog Treats
Greenies have been making pet healthcare products since 1996 and their dental care line is one of the most popular among pet owners.  Their dental line has a variety of sizes and flavors making it easy to find one your dog will love. The unique shape and texture of Greenies Dental Treats have been clinically proven to clean the dog's teeth and gums. Best of all, these treats are made with all-natural high-quality easily digestible ingredients.
---
Pedigree DENTASTIX
These dental treats have a unique shape that fights tartar and plaque buildup all the way down to the gums. They also work great to freshen your dog's breath. Pedigree Dentastix comes in a nice variety of flavors and sizes. They also have a No Grain dental treat. With such a large variety, you are sure to find one that fits your dog's taste and needs.
---
Dental Dog Toys
This is another fun and easy way to help keep your dog's teeth clean and healthy. The design of dental dog toys has textured surfaces that work like a toothbrush as your dog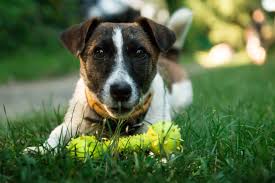 chews and plays with them.
---
Dental Teeth Cleaning 
Dog Chew Toy by Petfactors
This toy is made of a food-grade rubber material that is 100% safe for your dog. While your dog chews on this toy the textured design is cleaning his/her teeth and gum. Also, makes a squeaking sound when pressed and it floats in water for more playtime. Recommended for puppies to medium-sized dogs.
---
Nylabone Dental Chew Toy
Nylabone has been making the world's best long-lasting edible chew toys since 1955. This chew toy has multiple textures that help clean teeth to control plaque and tartar build-up while massaging the gums. Featuring a delicious bacon flavor that most dogs love.
---
Cotton Rope Dog Toys by Achivy
Rope toys are great for cleaning teeth while massaging the gums. These rope toys are made of washable high-quality natural cotton fiber and non-toxic dyes. This set of 6 toys also includes a durable bouncy rubber textured ball recommended for puppies to medium-sized dogs.
---
Conclusion
Just knowing the harm that dental disease can cause should make you want to start or add to your dog's daily teeth cleaning routine. By choosing the best dog teeth cleaning products combines with annual visits to your veterinarian for teeth cleanings will drastically reduce the chances of your dog getting dental disease. Plus just think of all the wonderful bonding time you will have with your best friend!
If you have any questions please leave me a comment. I will get back to you ASAP!
Happy teeth cleaning,