Caring for a long haired dog requires a lot of maintenance.  By neglecting long hair the results will be tangles and matting.  This is something that you do not want to happen.  In this article, I will cover how to groom a long haired dog and recommend the best tools for the job.
Here is a list of long-haired dog breeds to help you know the types of dog this article is pertaining to.
Afghan Hound

Cocker Spaniel

English Springer Spaniel

English Setter

Irish Setter

Lhasa Apso

Maltese

Old English Sheepdog

Papillon

Shih Tzu

Silky Terrier

Yorkshire Terrier
For how to instructions on bathing, nail trimming, ear, and teeth cleaning please Click Here!
I recommend using a cream rinse conditioner after shampooing for long haired dogs.  Do not bath your dog until you have removed all the tangles and mats.
Why did you choose a Long Haired Dog?
---
Before we get into the grooming of a long haired dog I would like to go over the reasons as to why you choose to have one as a pet.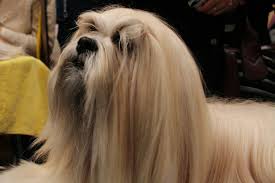 The breed was recommended to you as a good pet.

You like the way they look.

Long hair is attractive on a dog.

You wanted a dog you can decorate with bows that will look cute.
Now that you are the proud owner of a long haired dog you may realize it's a lot more work than you thought it would be.  To keep the long hair from getting tangled and matted you will need to dedicate time to maintaining your dog's coat.  
Think Before You Cut
Yes, I know what your thinking. " I can always cut it short."  But just because many people decide to do this doesn't mean you will too.  Maybe you got the dog because you like long haired dogs.  If so, then why would you want to cut off all his/her hair?  Furthermore, if you want short hair on your dog you should have gotten a short haired dog.  But you didn't, you have a long haired dog because that is what you wanted.  I will help you by showing you some easy ways to maintain your dog's beautiful long hair.
I also understand that life gets in the way sometimes.  Maybe you got a new job with more hours or maybe you just had a new baby.  Before your dog becomes a tangled mess you will want to think about taking him/her to a professional groomer or cutting the hair yourself.  I will also help you with this.
Caring for your Long Haired Dog's Coat
---
Caring for a dog with long hair requires a lot of brushing and combing.  I recommend using the Universal slicker brush and a combo comb with fine teeth on one end.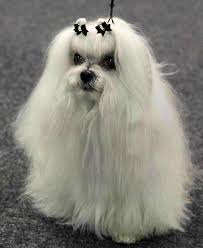 Also, you may need a mat splitter if some of the mats do not brush out.  Having a good leave in spray conditioner that has detangler in it will be a big help.  Do not turn brushing time into a battle.  Brushing should be a pleasant time for your dog.  If he/she begins to get antsy take a break.  As your dog gets used to being brushed it will become easier for both of you.  
How to Brush a Long Haired Dog
Using a slicker brush start with the back feet working your way up the leg.  Pay close attention to the hair between the toes as it tends to mat easily.  Lift the hair with your other hand as you brush.  This will help to get to the base of the hair. As a result, you will be brushing from the base to the end of the hairs.  Continue on to the tail working your way up the back towards the head.  Always lift the hair as you brush.  
Move onto the lower part of your dog's sides and work up to the back, then onto the chest.  Brush the front legs the same way you did with the back, always starting with the feet.  Lift the ears to get to the sides of the face and brush both sides of each ear.  Pay close attention to behind each ear where mats form easily.  Brush the face and head.  Now you're ready to comb, do this is the exact same order that you just did while brushing. 
How to Use a Spray Conditioner
There are two different ways you can use a spray conditioner with long haired dogs.  This will depend on the condition of your dog's coat. 
First, if your dog's hair is tangled you will want to spray with the conditioner as you are brushing.  To make it easier to untangle the hair spray the area you are going to brush.
Second, you can spray when you are done brushing before you begin to comb.  Spray a nice even layer of conditioner all over.  Make sure to avoid getting it in your dog's eyes, then comb.  The results will be a nice silky coat, a spray conditioner will also remove any static that was made while brushing.
How to Choose a Spray Conditioner
When looking for a spray condition you will find many to choose from.  Look for one that has a detangler in it.  It is important to read the ingredients, especially if your dog has any allergies.  Most of all you want a spray conditioner that is gentle and can be used often.
Ingredients to look for
Citric acids

Hydrolyzed wheat protein

Silk protein

Tea tree leaf oils

Wheat germ

amino acids

vitamins A, D, and E

Aloe
Ingredients to avoid
Alcohol

Harsh Chemicals

Heavily scented products
What to Trim
---
Even thou you are keeping your dog's hair long there are still a few places that require some trimming.  You will need a pet grooming clippers and a scissor for this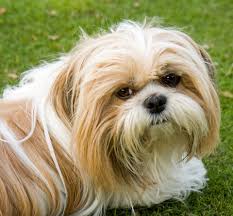 job.
Trimming the feet
Lift your dog's paw back and up towards you.  Lift far enough up so that you can see the bottom of his/her foot.  Never pull your dog's leg outward, they aren't made to bend that way.  Trim away any hair that is covering the pads. Then place the foot flat on the table and trim to make a nice circle around your dog's foot.
Shaving the Belly and Butt
To shave the belly area you will be using a #10 blade.  For smaller breeds lift your dog by his/her two front feet with the hind legs remaining on the table.  Shave up to the belly button area, you can go a bit further if this area is matted. For a larger dog, you will need to raise one back leg at a time to get to the belly area.
To shave the butt area place your arm under your dog's body and back around to hold up the tail. Using the clippers with your other hand.  This will prevent your dog from sitting down.  You are just trimming the hairs that get in the way when your dog has a bowel movement.  Never place the blade directly on the anus, you are just trimming around it.
How to Make a Topknot
---
To make a topknot you will need a comb and rubber bands that are made for hair.  Do not use a regular rubber band as they will damage your dog's hair.  Starting at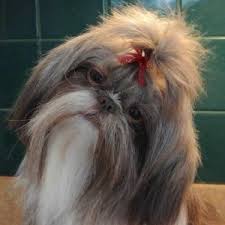 the corner of each eye use your comb to make a part. Bring the part up at an angle to meet in the middle of your dogs head.  Tie with a rubber band and add a bow if you like. If you like you can also make bangs.  Part the hair for the topknot then make a straight line part about half an inch above the eyes from one end to the other.  Tie the topknot then trim the bangs with a scissor to the length you like.
Trimming the Hair of your Long Haired Dog
---
Are you are strapped for time?  Are you having a hard time keeping up with the brushing routine?  If yes then you may want to trim your dog's hair shorter before it gets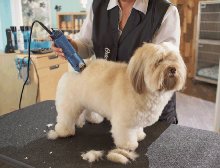 out of control.
How to Trim
To make it easier on you start by going over your dog with a snap-on comb over a #30 or #40 blade for best results.  You can use a #10 blade but the results will not be as good.  You will need to brush the hair first.  Snap-on combs do not work well on tangled hair.  Choose a comb that will cut to the length you want to achieve. When you purchase a set of clip-on combs they will come with a chart showing you the length each one cuts too.  Start at the head and work towards the tail and down the legs.  Cutting in the direction of hair growth.  Bath and fluff dry then go back over with the comb on the clippers.  You can then use a scissor to even up the edges and trim the face. 
Using Snap-on Combs Takes Practice
At first. you may feel a bit awkward in using the snap-on combs.  As with everything else, it will take practice to master this grooming technique.  Here are some tips for using snap-on combs.
They will not cut through knots and mats.

If the tips feel too pointy you can file them down a bit with an emery board.

If they keep popping off try to squeeze the small metal clamps at the bottom.

Do not use on wet hair.

Clean with soap and water after each use.

If they stop cutting pop it off the blade and clean out any hair that built up on the blade and between the teeth of the blade.
I hope you found this article to be helpful with grooming your long-haired dog.  If you have any questions please leave a comment.
Happy Grooming,