When it comes to choosing the right pet nail trimmer a lot will depend on what type of nails your pet has and your personal preferences. In this article, I am going to review several different styles of pet nail trimmers. I will also review the brand that I have personally found to be the best for each style. This will help to give you an idea of what pet nail trimmer will work best for you and your pet. Personal preference will also play a roll in your decision. You need to choose the ones you will feel comfortable using.
Nail Trimming Tips
---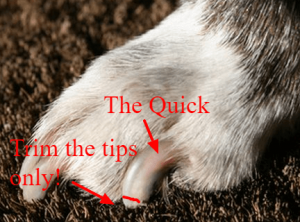 Pet Nail Trimmer Styles and Brands
---
Four Paws Ultimate Touch Nail Trimmer
These are my very favorite nail trimmers. The Four Paws Ultimate Touch Nail Trimmer is the only one I use and I use them on all types of animals. This is a Guillotine Style nail trimmer made with a stainless steel replaceable blades and a no-slip rubber grip. Featuring a safety bar to prevent over-trimming. They are safe, easy to use and made to last.

---
Dog Nail Clippers and Trimmer By Boshel
This is a Pliers Style pet nail trimmer. The nail trimmer has a high quality 3.5 mm thick stainless steel sharp blade that will last a long time. Designed to be comfortable with an easy grip, non-slip handle. Featured with a safety stop blade to prevent over-trimming. You will also get a mini pet nail file that is stored in the handle.

---
Safari Dog Nail Trimmer
This is a Scissor Style pet nail trimmer. The Safari Dog Nail Trimmer is made of stainless steel with a rubber coating on the finger holes for extra comfort. I recommend this style only if you own petite dog's, puppies, and small animals like rabbits and guinea pigs.

---
KUDI Cat Nail Clippers
This is also a Scissor Style pet nail trimmer but with a curve to make it easier for cutting cat nails. Kudi Cat Nail Clippers are made with a high-quality stainless steel blade for smooth trimming. Designed for comfort with rubber coated finger holes. These nail trimmers are also recommended for use on kittens, cats, rabbits, puppies, chinchillas, guinea pig, rabbits, and birds. 

---
URPOWER Rechargeable Pet Nail Grinder
Pet nail grinders have recently become very popular. Pet owners have found them to be much easier and safer to use than the standard pet nail trimmer. The big drawback is that you will need to get used to using them correctly and many animals tend to be afraid of the noise they make. It is recommended to introduce this procedure gradually to your pet. Please make sure you read all the instructions that come with the pet nail grinder. Grinding the nail for too long can cause the quick to bleed.
The UrPower Rechargeable Pet Nail Grinders is one of the most popular brands.  This pet nail grinder has a diamond bit grinder designed to be safe, effective and last forever. The rechargeable batteries will last for up to 3 hours of continuous use once fully charged. Featuring a unique mute technology to reduce the noise that some animals are afraid of. Also, offers three ports for different sized nails.

Conclusion
---
Now you have a better understanding of the different styles of pet nail trimmers. This will make it easier for you to make an educated decision when it comes to choosing what pet nail trimmer to use. It is always best to choose what you feel to be the most comfortable with using. It may take some trial and error before you get the ones you like. Remember to always reward your pet after every grooming procedure with praise, love and a treat!
If you have any questions please leave me a comment.
Happy pet nail trimming,