I can remember back in my days of grooming school, we had a list to follow for grooming a dog. I also remember how helpful it was while I was learning. With that said, I have decided to help you too by making a list of all the things that need to be done while grooming your dog. This list will start with what to do first, second third and so on. As you are learning how to groom a dog I suggest that you follow this list. If you follow this pattern each and every time you groom your dog it will become second nature. After some time you might just surprise yourself at how well you have become at dog grooming.
The Basic
---
Before we begin I would like you to go over an article I wrote that will explain how to do all the basic dog grooming procedures. Please Click Here! The page will open in a new window so you can easily come back to this page.
The Steps of Dog Grooming
---
Having a well-groomed pet = Having a happy pet! It is recommended to groom your dog at least once a month to keep him/her clean and comfortable.
Step #1
Gather everything you will need to groom your dog. I recommend keeping all your grooming tools in an airtight storage bin. This will help keep you organized and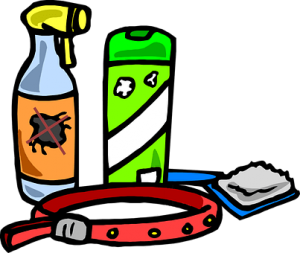 prevent rusting and/or damage to your tools.
List of supplies
Brush and comb

Clippers, Blades, and snap-on combs

Nail trimmers, file, and styptic powder

Ear powder (if needed)

Ear wash, cotton balls, and Q-tips

Toothbrush and toothpaste

Shampoo and conditioner

Towels and washcloth

Blow-dryer
Step #2
Secure your dog on the grooming table using a grooming nose or leash. If your dog is nervous try to calm him/her down by talking softly and petting. Reassure your dog that all is ok and he is safe.
Step #3
Brush out all tangles, mats and loose hair. Furthermore, mats that do not brush out will need to be split using a mat splitter. I do not recommend using a scissor to cut out mats, you can easily cut your dog's skin doing this.
Step #4
Shave the belly, butt, and pads. If you will be giving your dog a full haircut, you should do a rough cut now. What I mean by a rough cut is to go ahead and cut the hair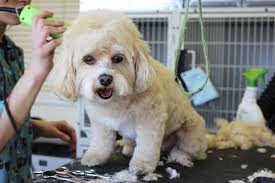 to the desired length using a blade or snap-on comb. Do not worry about making it all even now because you will do the finishing cut after the hair is cleaned and dried. You are doing this now to save time while bathing and drying.
Step #4
Trim and file the nails. Pluck the hair from your dog's ears if needed. For dogs with very thick nails, it will be easier to trim them in the tub after they have been wet because the water will soften the nails.
Step #6
Place your dog into the tub. This is a great time to brush your dog's teeth but it is optional. Shampoo, rinse, and condition if needed. Make sure that you do a thorough rinse to remove all the dirt and shampoo.
Step #7
While your dog is still in the tub clean his/her ears with an ear wash. Wipe them out with cotton balls and use Q-tips to remove dirt from the curves, nucks, and crannies of the inner ear.
This is also a good time to clean any tear build-up from under the eyes.
Step #8
Towel dry to get most of the water off your dog, then blow dry until the coat is completely dry. For curly to wavy coated dogs, you will need to Fluff Dry their hair. This is important if you are giving your dog a haircut. Unlike humans hair, dogs hair needs to be dry before cutting. Cutting wet dog hair with your clippers and/or scissors will dull them quickly. Furthermore, the wet hair will build up in the blade and prevent you from getting a nice even cut.
Step #9
Give you and your dog a short break. Reward your dog for doing a good job and take him/her out to potty.
Step#10
Place your dog back onto the grooming table. Now it's time to finish up the haircut. Choose the blade or snap-on comb for the desired length. Go over the head, body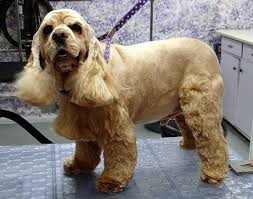 and down the legs. Scissor trim any hairs that are out of place. Also, scissor all the places you did not cut with the clippers like the face and tail. Don't worry too much about making a perfect cut. You will get better each time you cut your dog's hair. Remember, practice makes perfect! (haircuts vary according to the breed)
Step #11
This step is totally optional but I just love to give that finishing touch to dogs that I groom. Decorate your dog with bows or a bandana or both! You can also spray some doggie cologne on your dog to make him smell great. Visit our Finishing Touch Pet Boutique to give your Well Groomed Pet all he/she deserves!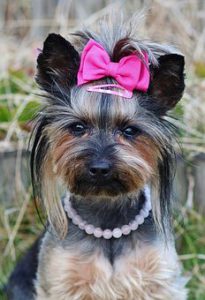 Step #12
Congratulations, you now have a Well Groomed Pet! Reward your dog with some love and/or a treat. Give yourself a pat on the back for a job well done! 
Conclusion
---
And there you have it! You now know all the steps of how to groom a dog. Each step does take practice and patience. Do not rush it, take your time while you are learning. Give you and your dog more brakes if needed. Don't be afraid to make mistakes, this is how you learn. You will improve each and every time you groom your dog.
I hope you found this information to be helpful. Please feel free to ask any questions you may have by leaving me a comment.
Happy dog grooming,