Every dog needs grooming even short-haired ones.  In this article, I will walk you through the process of grooming the short-haired dog and share with you the best tools for the job.
Here is a list of some short-haired dog breeds.  This list should give you a good idea of the kind of dog this article is pertaining to.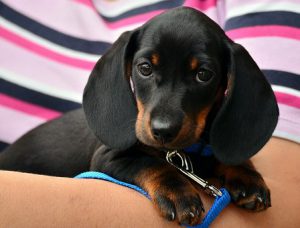 American Fox Hound

Basset Hound

Beagle

Boston terrier

Boxer

Bull Terrier

Bull Dog

Chihuahua

Dachshund

Dalmatian

Doberman

Great Dane

Labrador

Rottweiler

Weimaraner
Click Here to follow the instructions for bathing, nail trimming, ear, and teeth cleaning.
Owning a Short-Haired Dog
---
You would think that by owning a short haired dog that you won't have hair all over your house, well think again!  Short haired dogs shed just as much as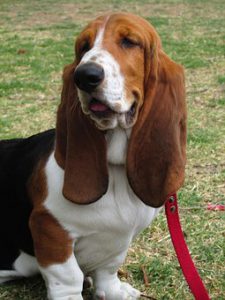 long-haired dogs especially if they have a skin problem. 
Shedding is totally natural. Dogs shed year round and excessive shedding occurs with climate changes. But excessive shedding may also be caused by food allergies, environmental allergies, fleas, ticks, parasites or a number of other things.  If your dog is showing signs of excessive shedding and/or skin irritation like bald spots and hot spots than it may be time to seek the advice of your veterinarian.  Your vet will be able to run tests to find the cause of the problem.  I had a Boxer that was suffering from skin irritations, after running tests we found the culprit.  It was plastic, yes plastic. We had to remove everything made of plastic that she came in contact with, within a matter of weeks she was totally cleared up.  
 Short Haired Dogs Skin Health
---
Short haired dogs tend to get more skin problems because the short hair does not protect them from some environmental conditions like humidity, UV rays, and pollutions in the air.  I recommend using a shampoo that is specifically made for the short haired dog along with a tearless shampoo for cleaning the face.  You may also consider getting a rubber bathing brush, it will help to remove dead loose hairs and build up a lather while massaging the shampoo into your dog's coat. Furthermore, most dogs love how it feels.  It's like giving your dog an extra treat while he/she gets a bath.
Care for the Short-Haired Coat
---
Using a rubber curry brush along with a coat conditioner spray works best for the short haired dog.  Coat conditioners repair damaged hairs, moisturize the skin and promote new hair growth.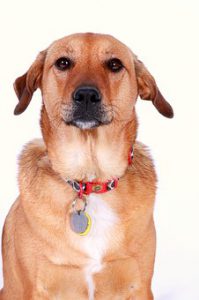 Bathing your dog removes the dirt and grime that builds up over time leaving the hair shafts open, conditioners help to seal the hair shaft and restore moisture and hydration to your dog's skin and coat.  The rubber of the curry brush works well at grabbing the short dead hairs on your dog's coat while creating a nice sheen.  Think of it as waxing your car, buffing the wax creates the shine.  The rubber curry brush also works as a buffer and the results are a beautiful shiny coat.
How to Deal with Excessive Shedding
---
As I already said, shedding is totally natural. When the seasons change you will notice that your dog's shedding is increasing and you are dealing with hair all over the house and your clothes. Yes, there are ways to reduce this but you will never totally eliminate shedding. Here are some tips to help you reduce the dog hair from your house.
Bath your dog at least once a month with a shedding control shampoo like 

FURminator deShedding shampoo

Brush often with a curry brush

Use a good dog conditoner weekly

If you own a Force Dryer take your dog outside and use the Force Dryer to blow off all loose dead hair
When and How to use a Coat Conditioner
---
After the bath and at least once a week you need to use a spray conditioner on your dog, making sure to not get it in their eyes and ears.  Do not use too much, it will make the coat feel greasy.  Start at your dog's head and apply evenly all over from head to tail, allow to dry for a few minutes.  Then brush the coat with a rubber curry brush to remove dead hair and skin.  By using the combo of the spray conditioning and the curry brush your dog's coat will have a beautiful sheen and feel while retaining the skin's moisture.
How to Choose a Good Spray Conditioner
---
When you go to look for a spray conditioner you will be bombarded with so many that you may get overwhelmed and confused.  So what is it you need to look for to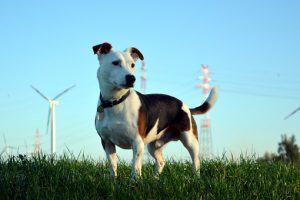 narrow down the search?  You want a spray that is labeled as being natural and gentle, one that is safe to use often.  Here is a list of some good ingredients to look for:
Citric acids

Hydrolyzed wheat protein

Silk protein

Tea tree leaf oils

Wheat germ

amino acids

vitamins A, D, and E

Aloe
Ingredients to avoid
Alcohol

Harsh Chemicals

Heavily scented products
For more information please visit The Best Hair Conditioners – For Dogs and Cats
Never use products made for people with your dog.  The PH levels of dogs and people are completely different and using a conditioner made for people on your dog can lead to many problems like skin irritations, dry skin, and increased itching.
My Recommended Tools for Short Haired Dogs
---
Here you will find the tools I use for this job.  I have found them to work best when grooming a short haired dog.  My recommendations are based on my experience of working as a professional pet groomer.
Use a Rubber Curry Grooming Brush and Coat Conditioner spray to give your dog a beautiful coat!

Le Salon Essentials Rubber Curry Grooming Brush with Loop Handle
The rubber curry brush works very well on short-haired dogs at removing loose dead hairs while the massaging promotes new hair growth.  This brush is also perfect to use while bathing and cleans easily. It is made of a durable rubber that will last a very long time.
---
This is an leave on spray that is gentle enough to use often.  It is naturally formulated to retain the skin's natural moisture while prolonging an unparalleled luster to your dog's skin and coat, you can read all the ingredients below.  Miracle Coat is available in 2 sizes, the 32oz. 
---
Makondo Pets Shampoo for Short-Haired Dogs
This is the best shampoo for dogs with a short coat and I highly recommend it.  The Makondo Shampoo creates a protective layer on the skin, which helps in preventing skin dryness, itching and will soothe any skin irritations.  This shampoo is made with all natural impedance: Natural Extracts of Aloe Vera, Seaweeds, Honey, Marigold, Sweet Almond, Papaya, Kiwi, Wheat Germ Oil and Vitamin E; Mother nature's most amazing ingredients strategically combined in a sweet-scented shampoo that comes in a 12oz. bottle.
Always reward your pet after every procedure with love and affection.  If you're giving him/her a treat, make it a dental treat!
I hope you enjoyed this article on grooming the short haired dog.  If you have any questions I'm here to help, just leave a comment.
Happy grooming,