Are you dealing with dog hair all over your house, clothes, and car? Well if you are I have some good news to share with you. Yes, you can drastically reduce this problem with a few easy steps. In this article, I will review some of the best dog shampoos for shedding along with sharing information on other ways to reduce shedding.
What Causes Dogs to Shed?
---
Shedding is completely natural and nothing to stress over unless it becomes excessive. Although some dog breeds naturally shed excessively during seasonal changes excessive shedding may also be a sign that something is wrong with your dog. 
Causes of Excessive Shedding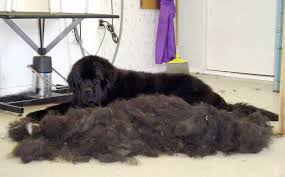 Some of these causes will need you to seek professional help from your Veterinarian. Once you rule out all of these causes and come to the conclusion that your dog is shedding naturally you can continue to address the shedding problem yourself.
How to Control Shedding
---
Keep in mind that shedding is completely normal in a healthy dog but no one wants hair all over their house. There is no way to totally eliminate shedding but you can reduce the amount of dog hair in your home, car and on your clothes.
Steps to Reduce Shedding
Review of the Best Dog Shampoos for Shedding
---
When looking for a good de-shedding shampoo make sure to read the ingredients. Many of the top brands use artificial fragrances, dyes, and other harmful ingredients. Always use tear-free shampoos made for dogs on your pup's face. I will only review and recommend products that are safe for you and your pet.
Luxury Leather Organic Dog Shampoo
This shampoo is the cream of the crop, made with 100% natural organic ingredients. These ingredients with help to heal and restore your pet's skin and cost resulting in less shedding. The shampoo is totally soap-free and will not burn your pup's eyes. It is also highly concentrated so a little goes a long way. You and your dog will love the long-lasting natural scent of lavender and bergamot essential oils. Luxury Lather may cost a bit more than others but it is well worth it. The owner is so sure that you will love this product that they offer you a 100% money-back guarantee if you are not satisfied.

 m
Features:
---
Espree Simple Shed Dog  Shampoo
This gentle shampoo is formulated with 100% Organically Grown Aloe Vera, Coconut, Panthenol, Jojoba, Vitamins A, D, E and Oat Proteins. These ingredients work together to strengthen the hair shafts and remove loose dead hairs from your dog's coat. Espree Simple Shed can be used often to safely reduce seasonal and non-seasonal shedding. 

Features:
You may also like to try Espree Simple Shed Dog Coat Treatment to strengthen and repair the hair shafts.
---
4-Legger Certified Organic Oatmeal Dog Shampoo
I love all 4- Legger products, this shampoo is no exception. It contains all the ingredients needed for a healthy coat which will result in less shedding. The shampoo is 100% Natural and USDA Certified Organic. Formulated with Saponified Organic Coconut, Olive, and Jojoba Oils, Lavender Essential Oil, Organic Oatmeal Glycerite, Rosemary Extract, and Organic Aloe Vera. You will love the natural sweet aroma of this highly concentrated shampoo.

Features:
---
Burt's Bees for Dogs, Shed Control Shampoo
Burt's Bees has a wonderful line of natural pet products with a good reputation. This shed control shampoo contains omega 3s, vitamin E, and other high-quality all-natural ingredients to promote a healthy coat. It has the perfect PH balance to keep your dogs skin moisturized which promotes new hair growth. The shampoo has a mild odor is cruelty-free, and 99.7% natural.

Features:
---
Conclusion
Trying to totally get rid of pet hair from your home, car, and clothes is a constant battle for all pet owners but it's a battle we pet lovers have to deal with. Fortunately, now you know how to tackle this problem head-on with confidence. You will never totally eliminate the shedding but now you know how to manage and reduce the problem.
Remember to always reward your dog after every grooming procedure with a treat and some love!
If you have any questions or need some help please leave me a comment. I will get back to you ASAP!
Happy Pet Grooming,