Due to the fact that cats are very sensitive creatures the ingredients in some shampoos can cause a bad reaction in your cat. First of all, it is very important to only use shampoos that are labeled "Safe to use on Cats".  Even baby shampoos contain ingredients that can harm your cat. Most of all you want a cat shampoo that is formulated with natural and organic ingredients.
Because your cat pretty much takes care of his/her own grooming needs they do not need to be bathed often. If they are suffering from a skin problem or get into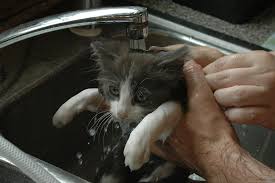 something yukky then a bath will be needed. I am going to share with you some cat shampoos that I found to be the safest and work the best. Keep in mind that every cat is different and what works for one may not work for another. I want to help you find the best cat shampoo for your cat.
Ingredients to Avoid
---
Don't grab the first shampoo you find that is labeled safe for cats. You need to read all the ingredients before you make a purchase. Keep in mind that cats are sensitive to many ingredients that are commonly used in shampoos. You do not want to use anything on your cat until you are 100% sure it is safe.  Here is a list of ingredients to avoid.
Fluppets Certified Organic Pet Shampoo
---
Fluppets is a company the cares about all pets. They only use pure natural ingredients in all their products. They will also donate .50 from every bottle sold to help save the lives of animals in shelters.
I give this cat shampoo a 5 Stare Rating.
This shampoo is formulated with Organic oils of Coconut, Olive, Jojoba, Lemongrass, Rosemary, and Organic Aloe Vera. All these ingredients help keep your cat's skin healthy and hydrated. Being this shampoo is labeled as Certified Organic you can rest assured that it contains only the best ingredients for your cat.

What others are saying about this cat shampoo.
This is a great shampoo. You don't need a lot of shampoo and it has a nice light scent. I will buy this again. I also like that it is organic.

 

FLUPPETS Organic Shampoo is the BEST thing I have ever used. It is not thick and you don't need much. I have used maybe 4 ounces bathing 2 poodles 2 times and 5 puppies 2 times. It lathers beautifully and rinses off to squeaky clean in no time and it smells divine like lemon verbena, Best shampoo I have ever used in all my years of having dogs. Pricey, but ounce for ounce way cheaper than regular pet shampoos.
BotaniVet Certified Organic Manuka Honey Pet Shampoo by Vet Remedy
---
Vet Remedy was founded by a board certified veterinary dermatologist. All their products are made with 100% natural ingredients that are based on scientific research. 
I give this shampoo a 5 Star Rating.
This shampoo is made with Manuka Honey, Organic Aloe Vera, Certified Organic Coconut, Olive and Jojoba Oils. The Manuka honey used in this shampoo also has potent antibacterial and antifungal wich promotes healthier skin and fur. This shampoo also has a fresh all natural berry scent that is very pleasing for you and your cat.

What other have to say about this cat shampoo.
I have a hairless cat (yes, I am weird) that I love. Cats naturally have hair to protect their skin from the elements, so my poor kitty is prone to skin issues. Her dermatologist recommended BotaniVet's certified organic shampoo. Considering she has always had reactions, I was skeptical. However, being a science geek I loved that this shampoo was chock-full-of all-natural ingredients like manuka honey that could also help decrease bacterial skin infections! Fast forward a few weeks….I am incredibly impressed! On her first bath, I found this shampoo to be a pleasant fragrance, of nice consistently and easy to lather, while at the same time not being too sudsy.

 

This shampoo lathered very easily, plus it rinsed out very easily also! I love the fact that it is organic.
Earthbath All Natural Cat Shampoo
---
Earthbath was started in 1995 and have a very good reputation. They create shampoos that are natural and safe to use on your pet.
I give this shampoo a 4 Star Rating
This shampoo is specially formulated with Aloe Vera, Coconut, and Cherry Essence made just for cats. All ingredients are natural, biodegradable, and gentle. Also, contains conditioner and detangler.

What other have to say about this cat shampoo.
LOVE IT! We got a kitten last summer that is a long haired mess. A long hair poo butt mess. So baths are pretty common over here. this shampoo works great, smells great & the cat doesn't seem to mind too!

Wow! I ordered the cat shampoo because my 16-year-old Maine Coon is shall we say, lacking in her grooming habits lately. I took her to a groomer for her first bath but I was disappointed how she still didn't look very clean. To save some money, I ordered the cat shampoo and decided I'd try to do it myself. I'm lucky my cat is as mild tempered as she is because she took the bath really well. I highly recommend this cat shampoo!
SofiesSecret 100% Natural+Organic Pet Shampoo
---
The SofiesSecret company was created by a woman who was determined to make products that are 100% organic and safe to use on people and pets. Every product made by SofiesSecrets is 100% recyclable, biodegradable and compostable.
I give this cat shampoo a 5 Stare Rating.
This shampoo is one of my favorites and is formulated with Aloe Vera, Green Tea, Lavender, and Ginkgo Biloba Leaf. It has a light scent of Chamomile which is very pleasant for you and your cat. The ingredients are packed with Antioxidants, Anti-bacterial, Anti-fungal, and Anti-irritant to keep your cat's fur healthy.

What others have said about this Cat Shampoo.
The smell of this wash is really nice and does a good job cleaning my cat.

I really enjoyed this product. I was looking for a cruelty-free & vegan pet shampoo and it just so happens that I also love coconut so I gave this a try. The smell is mild and pleasant. It doesn't lather like soap but it definitely did its job in cleaning. My cat's fur is super soft and fluffy now. I would use it again! Can't guarantee it will make it any easier to bathe a cat though!! That will still remain a struggle.
Filthy Friends Organic Pet Shampoo by Jackie Doodles
---
Jackie Doodles Pet Supplies was born in 2014 and was named in honor of the owner's beloved Rottweiler who passed away due to cancer. Because of this, they wanted to make products that are safe to use on pets, all natural, 100% organic, 100% Bio-Degradable, and perfect for sensitive skin.
I give this cat shampoo a 5 Stare Rating.
This shampoo is made with all USDA Certified Organic Ingredients. Formulated with Aloe Vera, Coconut, Olive, Jojoba organic oils, Lemongrass and Rosemary Essential oils. There are no artificial thickeners in this shampoo so a little goes a long way just by adding more water. Furthermore, by being thin it rinses off fast making bath time easier for you and your cat.

What others have said about this Cat Shampoo.
I am very pleased to be able to say that this is a wonderful pet shampoo. (I say this as my ESA Arya stares at me creepily, but smells and looks amazing because of this product)(and she's super soft!). I originally bought it because I thought she had fleas and I wanted a natural product to use on her instead of the pesticides that are normally used to treat bug infestations. and not only is everything in this shampoo clear and easy to understand, it works amazingly!

I ordered this product to help with my cats itching and just from the feel of her coat after just one shampoo I'm sure given a few more baths her itching will stop too. The shampoo smells terrific and it lathered very well and rinsed easily.
Lola and Max Organic, All Natural Pet Shampoo
---
Lola and Max is a fairly new compony that is building a very good reputation in the pet industry. They are committed to helping pets and the environment by making eco-friendly, biodegradable products.  Their shampoo is all-natural and USDA certified organic, making this a very good choice for your cat.
I give this cat shampoo a 5 Stare Rating.
This shampoo is a 2 in 1 natural and organic shampoo and conditioner formulated with Organic Aloe, Saponified Organic Oils of Coconut, Olive, and Jojoba, Lemongrass Essential Oil, Rosemary Essential Oil,  Natural Rosemary Extract. The blend of these oils works very well on dry skin and odors. Organic Aloe is also nature's best healer.

What others have to say about this Cat Shampoo.
This product smells clean and less perfumed than other pet shampoos. Suds up easily and rinses out easily.

Have never used anything that left her so soft and clean. if she licks herself as she always does after a bath she safe from getting sick because of it being natural derived. Smells pleasant. Only need a little bit to suds up. Excellent quality at a reasonable price.
Conclusion
---
All the cat shampoos that I have listed in this article are safe to use and will benefit your cat's fur.  They are also all organic and natural, making them the better choice for your cat. Because we all want the best for our pets it is important to do some research before making a purchase. Therefore I hope this article helped you to narrow down your search for the best cat shampoo for your cat. 
Furthermore, if you need some cat bathing tips please visit How to Groom a Cat.
If you have any question please leave me a comment.
Happy cat bathing,