If you are grooming your pet at home or if you plan to start it will be a good idea to invest in a grooming table. Not only will it make grooming much easier but it will also be better for your back. Trying to groom a pet on the floor can be very hard on your lower back. There are many advantages to using a grooming table, once your pet gets used to being groomed on a table you will wonder why you didn't do this from the beginning. By having your pet restrained on the table will put you in control of the situation. Your pet will soon realize that he can not get away from you and will succumb to the process of being groomed.
Choosing a grooming table can be a daunting task being there are so many to choose from. You want to find one that will fit your needs, I am going to help you by showing you some of the best grooming tables available today.
Tips for using a Grooming Table
---
Your pet may become a bit frightened the first time you place him/her on a grooming table. Reassure him that it's ok and he is safe before you attempt to start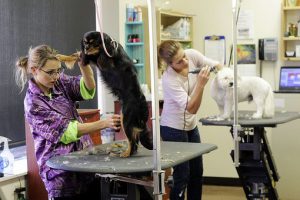 grooming him. 
Adjust the height of the grooming arm to the right height before placing your pet on the table. The noose should be at a length that will easily slip over your pet's head. The noose should not be tight around the neck of your pet, lower the arm to loosen the noose.  Do not set the groomers arm too low, your pet should be able to stand without it being near his head.
Never place your grooming tools on the grooming table. Set up a table or shelf next to the grooming table to place everything you will need to groom your pet, everything should be easy to reach. Placing tools on the table is not safe for your pet. Furthermore, you risk the chance of your pet knocking them off the table. Clipper and blades will break if they hit the floor and scissors will become dull and out of alignment.
Place the grooming noose on your pet before putting him on the grooming table. This will make it a bit easier to secure your pet by not giving him a chance to jump off.
Never and I repeat never leave your pet alone on a grooming table. They can slip or try to jump off causing injury to themselves.
Oxgord 36 inches Large Pet Grooming Foldable Table
---
This grooming table is very sturdy and well worth the money, I currently use this exact table. Being it is not adjustable in height I cut 1-1/4″ PVC pipe into 4 pieces of 2ft each and place them over the legs of the table to make the table higher when grooming small animals. You can cut the pieces to make them shorter of longer according to the height you prefer. This table folds up for easy storage if you're tight on space. The grooming arm is adjustable in height and can be removed for storing.
I give this grooming table a 5-star rating.
What other have to say about this grooming table.
I was very happy with this purchase. The table was better than I expected for the price. I would recommend this table.
No problems and very sturdy for our standard poodle. Works just fine and makes touch-up grooming much easier.
I am so impressed with the stability and excellent quality. If I saw this table at a pet store I would think it costs at least $200. Excellent grooming table at an extremely low price. It came with the arm attachment and the slip on collar/leash. Highly recommend this table!
Flying Pig Heavy Duty Stainless Steel Pet Dog Cat Bone Pattern Grooming Table
---
This is also a very sturdy table that comes in three different sizes and colors. I like the idea of having a storage basket under the table. This will be a big help for those who are tight on space. This table comes with a removable foldable, adjustable grooming arm and noose. The table folds up for easy storage, this table is not adjustable in height. I recommend using the PVC leg extensions with this table too.
I give this grooming table a 4-star rating.
What others have to say about this grooming table.
I am soooo happy I spent a bit more money and got this table. It is very sturdy and all you have to do to set it up is unfold the legs and attach the arm. The basket fits perfectly underneath. No screws no nothing. I got it to start grooming my Poodle who is 17″ at the shoulder and 19 lbs. I chose to get the medium and although he probably would have fit on the small, I prefer having a bit of room. It came wrapped extremely well so no dings or dents. Very pleased.

 

I am a dog grooming newbie and got this for my 9-month-old Airedale puppy. He is right at 70lbs and the table was stable and plenty big. Set up and take down is simple. Folds flat for storage. Would purchase again.

 

Should've bought this along time ago! A few years sitting on the floor and fighting with the pooches is a thing of the past. I can't say how much easier this table has been for me to groom. This table is very sturdy and easy to take apart and fold up to put away as it is to put together. It's fairly lightweight and easy to move. Can't believe I waited so long to get one!
Mophorn Hydraulic Grooming Table
---
This table is ideal if you are grooming pets of different sizes. You will be able to adjust to the correct height for all size pets saving you from getting back aches. If you are going to invest in a hydraulic grooming table this is one of the best I have seen for the price. The hydraulics are foot activated making it easy to adjust to the height you need. This table comes with a removable adjustable grooming arm and noose. Hydraulic tables do tend to be a bit shaky while grooming your pet, this is due to the way it sits on the base. This table has received a lot of good reviews and seems to be one of the most stable when it come to hydraulic grooming tables.
I give this grooming table a 5-star rating
What others have to say about this grooming table.
The packing was very good as the shipment, The four heavy duty rolling casters were installed on this table while still in my garage and this was very helpful to be able to move the table into another area for use.This is a great grooming table. It is sturdy, easily operable and serves every purpose of our needs.

 

The hydraulic grooming table itself is amazing, very easy to assemble, it's heavy duty and stable. It's low enough for my dog to hop on and just with a couple of foot pumps I can have him at arm's length for easy grooming. It just makes grooming my pets so much easier and faster! This hydraulic grooming table is awesome! Buy it.

 

The table required some assembly but was very straightforward… The table has a beautiful finish to it and it was very easy to put together.It is really strong you can put really big dogs and it will lift up.I recommend this table much better quality than any table in pet edge and much less cost.really good stuff.
Master Equipment Zinc-Plated Steel Dog Grooming Arm with Clamp
---
For those of you who already have a stable table to groom your pet on I recommend getting a grooming arm. You will be amazed at how much more control you will have while grooming your pet if he is restrained using a grooming arm and noose. Master Equipment has a very good reputation for making high-quality products. This grooming arm is made of steel which is much stronger than some that are made with aluminum. It is also zinc plated for maximum strength and comes with 1 noose. Will fit on most tables as long as the are not thicker than 3inches. 
What others have to say about this Grooming Arm.
Excellent product and works great w/a standard size poodle. Also, saves me huge amounts of money doing the grooming myself instead of taking her to the groomers. For any who is serious about grooming their own dog, this is a great product. Built very sturdy!

 

This is great. While I have a mid-sized dog, the 48 in. model is definitely the right size. Both the arm and clamp are very sturdy and nicely finished, and the arm perfectly fits the clamp (i.e., no wobble). Good packaging and 2-day delivery. Excellent product and outstanding value.

 

I run a small grooming shop out of my home and am always looking for ways to save money. I ordered this because of the price and the Master Equipment name. Easy to install, easy to make higher or lower and I love the free noose that came with it.
Conclusion
---
When it comes to grooming your pet at home you want to make the job as easy as possible. Grooming your pet on a grooming table will do just that. I also suggest purchasing a few extra grooming nooses just in case one gets lost or chewed up lol!
I hope you found this article to be helpful in choosing a grooming table. If you have any questions please leave me a comment.
Happy grooming,